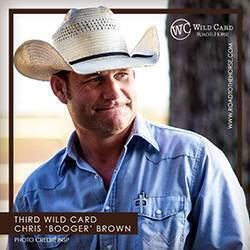 I am so honored to announce that I will be competing in the 2019 Road To The Horse as a wild card!

Visit www.roadtothehorse.com to get your tickets!




welcome to
BB Cattle and Performance Horses
Booger Brown is a 4th generation cowboy and horseman specializing in all-around horse training.

If you are interested in natural horsemanship and learning the cowboy way, there's no better place than at one of Booger Brown's horse clinics. We are located in Alabama and travel around the country to serve you. Tune into the INSP network to see Booger Brown in action on The Cowboy Way: Alabama.
News

and

Events


Thank you to the Cullman County Cattlemen and Cattlewomen's Association for having us at the winter meeting and congratulations to Cody and Lyndsey Rasco who will serve as Presidents in 2019-2020.

Tune into INSP every Sunday night at 10pm EST to see every episode of The Cowboy Way starting with Season 1 Episode 1 beginning March 24!
Click Here

Every episode of The Cowboy Way is on Amazon Prime! Be sure to catch up before Season 6!
Everybody had a great time at our Ranch Sorting Clinic in Ruston, LA! It was amazing to see the improved horsemanship over the course of just 3 days. See photos in our gallery - Click Here
Thank you to everyone who made our 1st Annual Round Up Cattle Drive a success! Check out the photo gallery and get ready for the fall 2019 drive!